Block Island's Hometown Recycling Center
Household Trash - Recyclables - Contractor Trash - Appliances - Electronics...and more
Block Island's Hometown Recycling Center

14 West Beach Road
P.O. Box 125
Block Island, RI 02807
(401) 466-2864
Accepted Materials and Rates
What to Recycle in your Bin/Cart Please recycle only the following
Paper, Cardboards, Cartons
– Should be clean, dry and flattened (a little dirty or wet is ok)
– Cartons must be empty and rinsed whenever possible
– Place plastic tops on cartons and recycle
(No other fiber products (i.e. wood and textiles))
(No shredded paper, napkins, or paper towels)
Metal Cans, Lids, Foil
– Must be empty and rinsed whenever possible
– Foil should be clean and bunched up
(No frying pans)
Glass, Bottles, Jars
– Must be empty and rinsed whenever possible
– Remove metal tops and recycle seperately
(No drinking glasses)
Plastic Containers
– Must be empty and rinsed whenever possible
– Place plastic tops on container before recycling
(No other plastic (i.e. coat hangers))
(No plastic bags, bags of bags, or recycling in bags)
We also take
Appliances and scrap metal: Washers, dryers, refrigerators and air conditioning units.
Auto tires and batteries
Motor oil and oil filters
Yard trimmings
Construction waste
Freon
Old bicycles
Electronics
Furniture
In some cases there are acceptance fees. Please see the rate schedule for fees.
No…
plastic bags, bags of bags or recycling inside of bags
more than a trace of food/beverage residue
textiles or wood
paper shreds, napkins, tissues or paper towels
pans
drinking cups
hangers
foams containers
containers from flammable materials or oily chemicals
BIRM 2021 Price List
Bagged trash gets weighed at the scale house next to the compactor. Commercial trash gets weighed on the truck scale near the center's exit.
ITEMS ACCEPTED BY THE POUND
 Trash, Demo, Brush
.15¢/LB
Metal
.05¢/LB
Commercial Cardboard, Metal, Recyclables
.07¢/LB
Couches
.15¢/LB
Televisions
.15¢/LB
ITEMS ACCEPTED WITH INDIVIDUAL RATES
Stuffed Chairs
 $5.00
Dressers
$10.00
Grills
$10.00
Hot Water Tanks
$10.00
Stoves
$10.00
Dishwashers
$10.00
Washers and Dryers
$10.00
Refrigerators
$50.00
Air Conditioners
$50.00
Car Batteries
$3.00
Truck Batteries
$5.00
Tire with Rim
$10.00
Tire Without Rim
$10.00
Push Lawnmowers
$10.00
Bicycles
$5.00
Large Microwave Oven
$10.00
Small Microwave Oven
$5.00
Truck Tires
$100.00
The answer to municipal composting:
Backyard Composting!
BIRM has composting bins for sale!
Compost bins are available for purchase for $50.00 (cash or check) at the Transfer Station during regular operating hours.
RIRRC is giving the town of New Shoreham an annual diversion credit for every bin we sell.
Help save space in our landfill and on our planet by composting!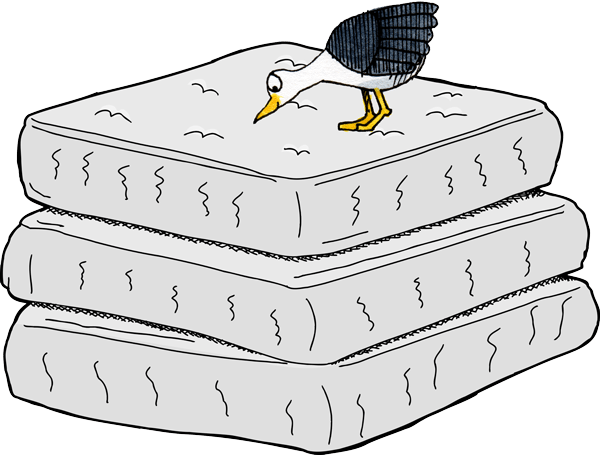 Mattress and Box Spring Recycling
We are a Rhode Island Resource Recovery mattress and box spring recycling partner.
No cost, just drop off
The cost of mattress and box spring recycling is paid for when purchasing either in the state of Rhode Island. There is no cost for recycling when you drop off your old sleep set.
Mattress Acceptance Criteria
The state has guidelines for mattresses and box springs that can be accepted for recycling. Click HERE to read the guidelines before bringing your old sleep set for recycling.
Ditch the Bags
Stop by Block Island Recycling Management and purchase a 40 Gallon blue recycling container for your home or office. They're only $10 and easy to transport. Or feel free to use your own container. A plastic container makes small work of storing and transporting your recyclables. And unlike bags, you won't have sticky fingers when done. Ewww.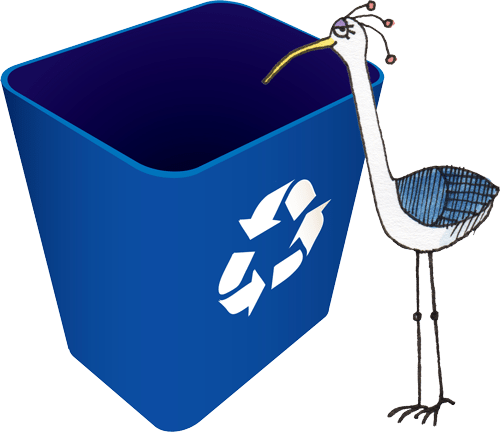 Recycling 101:
The do's and don'ts for recycling at B.I.R.M.
PLASTIC RULE
Recycle plastic containers up to 5 gallons
Exceptions: no plastic bags, foam, containers from auto fluid, paint strippers, insecticides, pesticides, herbicides, compostable cups or containers that tear or shatter.
---
EMPTY & RINSE
GENTLY REPLACE CAPS & LIDS
NO STRAWS
METAL RULE
Recycle metal cans, foil and lids only
Exceptions: no foil-plastic hybrids (e.g. yogurt lids, juice pouches, chip and candy wrappers)
---
EMPTY & RINSE
DON'T CRUSH CANS FLAT
DO BUNCH UP FOIL
GLASS RULE
Recycle glass bottles and jars only
Exceptions: no broken bottles or jars
---
EMPTY & RINSE
REMOVE METAL CAPS & LIDS AND RECYCLE SEPARATELY
PAPER & CARDBOARD RULE
Recycle paper and cardboard that is mostly clean and dry only
Exceptions: no sanitary paper (e.g. napkins, tissues, paper towels) and no waterproof cardboard (e.g. fridge/freezer boxes, coffee cups)
---
TAPE, LABELS, STAPLES OK
DON'T BUNDLE PAPER
FLATTEN CARDBOARD
The Dump Funnies:
Compliments of Royal Bruce Ink
Directions to the Recycling Center
The recycling center is located off of Corn Neck Road heading toward the North Light. From town, turn onto Corn Neck Road and keep going until you see the green BIRM sign on your left, just past Mansion Road, which will be on your right.
Any questions or Comments? Let us know!
B.I.R.M. 14 West Beach Road, P. O. Box 125, Block Island, RI (401) 466-2864
Illustrations ©2016 Royal Bruce Ink